Innovation

in topography and geodesy
Precision satellite surveying
Double frequency - GPS + GLONASS + BeiDou + Galileo
RTK via radio + Internet (NTRIP)
Now affordable to small business and independent professional
Precision
---
Real-time centimeter accuracy (RTK), milimeter accuracy with postprocess and decimeter accuracy over long base lines
Easy to use
---
Simple method even for users with no experience. Full training included.
Affordable
---
Designed with cost reduction in mind, while maintaining quality and features
GNSS Surveying Advantage
Maximize efficency and profit in your projects
Reduce staff and time on the field
RTK via Internet does not require line of sight to base, and works dozens of miles away
Modern antennas with full satellite reception provide good performance even in forest and urban areas
Survey
Quickly measure in difficult terrain with no need for line of sight to base.
Stakeout
Locate your points easily and accurately.
Contours
Quick height measurements with centimeter precision.
And much more
Monumenting, control points for drone, urban survey, geodetic control, combine with total station...
Software for every workflow
Compatible with powerful free or low-cost software and mobile apps to handle professionally any type of project
Quality and precision

at the best price
Available offers
Not sure what you need?
We will be glad to hear about your project and design a package that meets your requirements and budget.

Request assistance
¿Why choose PX?
PX is leading technology now affordable to small business and independent professionals, precise and reliable even for the big projects
Everything starts by choosing the right tool
Our devices and support will make a difference towards the success of your projects.
Return on investment

Quicker surveying with reduced staff at an affordable price

It keeps getting better

Devices are designed to be improved with changes to internal components and software as technology advances

Support

2-year warranty. Tech support available at no extra cost.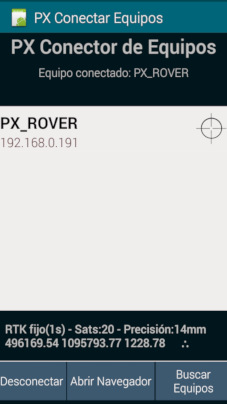 It's time to leap into the new tech!
We are ready to assist each step of the way so you can deploy the receivers in your next proyect. Let us know if you have any questions or would like a demo.